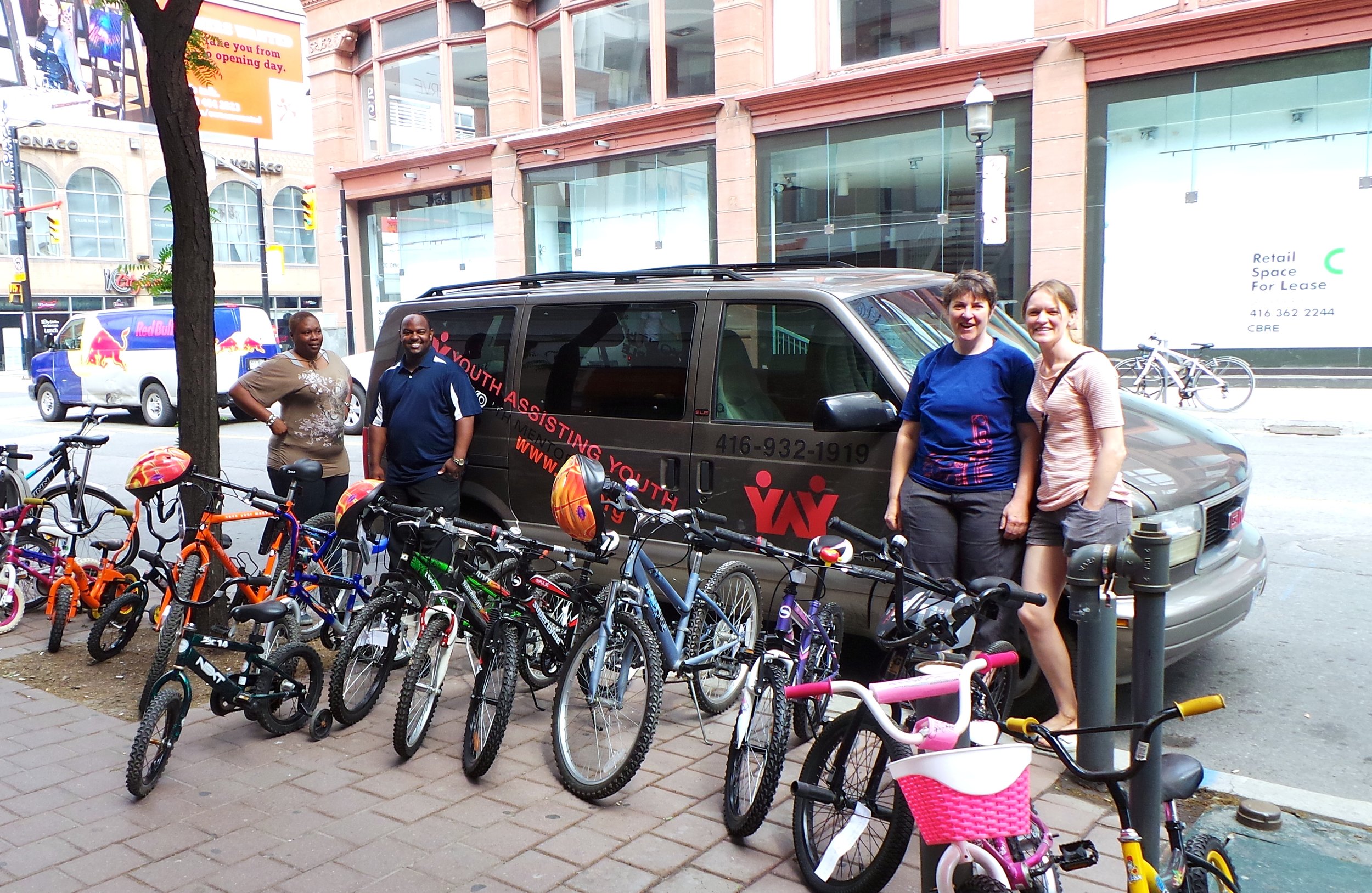 mission
To support vulnerable individuals in our community in maintaining their independence, enhancing their social well being, and optimizing their overall health and wellness through the provision and encouragement of cycling.
Project
The Great Bike Recycle provides an easy and credible way for people to donate their used bikes and bike parts, to be refurbished and distributed to marginalized individuals and communities in Toronto and around the world.
The project is a bikes repair and donation initiative incorporating bicycles as a tool for development. It serves both local and international bike projects with a focus on keeping the the organization's environmental footprint small. The Great Bike Recycle aims to empower disadvantaged community members, integrate newcomers, build skills, increase access to community services and most importantly, contribute to an overall healthier community.
Focus for the 2016/2017 bike distribution is newly settled refugees in the greater Toronto area. Please note we will also be sending bikes to Nicaragua as well as three areas in Cameroon in early 2016. The Great Bike Recycle is a multi-faceted projects with storage/repair stations at two locations (Bloor St./St. George and Bay St./Bloor St.) staffed by mechanics and volunteers. For more information on our unique volunteer opportunities please visit our volunteer page.
DONATE A BIKE (TORONTO)
The Great Bike Recycle is currently accepting bicycles of all sizes (tricycle excepted).
Bicycle donations can be dropped-off in downtown Toronto (St. George/Bloor area). We do not regularly pick-up bicycles as we simply do not have the capacity. However, if you have a large number of bicycles to donate and are in the Greater Toronto/Toronto area we may be able arrange a rental to pick them up.
We would like to avoid bikes that are extremely rusty/broken as the seized parts are too costly for our organization to repair.
Thank you very much. We will make sure your bicycle is safely fixed up and given to someone who needs it. Upon request, we are happy to offer a $25 tax-deductible receipt for each donation of a bicycle in fair to good condition.
To arrange a bicycle donation please fill out the form below: